Jul
9
Sun
2023 BBFR is on July 9th
Jul 9 @ 8:30 am – 6:00 pm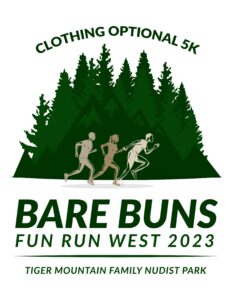 Once again the Bare Buns Fun Run is on the books. BBFR 2023 is slated for July 9th on Tiger Mountain.
Runners will be challenging the mountain on the toughest mountain course in the Northwest.
As usual, lots of fun will be available aside from the run. There will be food, coffee and snacks available before, during and after the run. Please avail yourself of the pool, hot tub and sunning lawn as well.
The park will be sponsoring a night of music on Friday the 7th and a spaghetti dinner with music on Saturday the 8th. 
Use the link to register: https://www.databarevents.com/bbfr
Look forward to seeing you here for another great run!
Aug
26
Sat
Nudestock 2023
Aug 26 @ 11:00 am – 6:00 pm
Yes! Nudestock is back this year.
Our Annual Day of Music in the Park!
Saturday, August 26th  11-6 
Our sunning lawn is a natural amphitheater to groove to tunes of:   
Vendors include:
Nudestroms Bare Essentials Store open for snacks, ice cream, and souvenirs 
Massage!
Regular 1 Day Membership fees apply   Tent camping included in 1 day membership. Kids welcome and included with their parents membership.  
Photo ID required for admittance
Bring a towel, blanket, lawn chair, cooler, sunscreen, and soak up the vitamin D…naturally!
Weekend camping and carpooling highly encouraged as parking in limited. 
We'll open on Thursday from 11 to 5 to get your weekend started early with $5 after 5pm volleyball!
Spend the whole weekend with us! We'll kick it all off Friday night with a Wine & Cheese Party 6:30pm