Jul
10
Sun
2022
Bare Buns Fun Run~West is Back!
Jul 10 @ 8:30 am – 6:00 pm
BBFR is Back!!!   July 10, 2022   

After two years on ice as a result of COVID, the BBFR is back and better than ever.
Slated for July 10, the event will feature everything you have come to love-
a 5k run up and back down Tiger Mountain, a day of swimming and soaking, food trucks and good old
fashioned fun in the sun.
Just $35 gets you a ticket to challenge the mountain and a day in the
sunshine.
Day of race registration is $45. $2 from each race entry goes to cancer research.
Camping is free and ground fees are only $20 for Friday and Saturday- reduced rates for youth.
Find out about the race here: https://www.databarevents.com/bbfr
This year, Tiger Mountain will be holding its traditional wine and cheese party on Friday, July 8
featuring international recording artist Jessica Allossary. (check her out on Spotify) The
Canadian songstress will entertain the crowd with a mix of original music and familiar covers.
As usual, music is included in the evening's festivities. Bring a bottle of your favorite beverage
to share and some cheese and crackers or your favorite hors d'oeuvres.
On Saturday night, we will be helping the runners carb load and providing the rest of you with
pasta, salad and bread to fuel up for the race. There is a $10 per plate donation for this event.
Please join with us and local musician Dave Reynolds as he shares some of his favorite songs
and yours after dinner.
Sunday is the big race. If you have registered, you can pick up your race packet beginning at
8:30 am.
Race begins at 10:30- awards for all age categories and food trucks to keep you nourished throughout the day.
A race entry comes with a day pass to swim, sun, chill and play!
Don't miss it. This will be the biggest and best clothing optional run for miles around. Do you
have a clothing optional 5k on your bucket list? Go ahead and check that box. We'll be waiting
for you with (or without) bells on.
Jul
9
Sun
2023
2023 BBFR is on July 9th
Jul 9 @ 8:30 am – 6:00 pm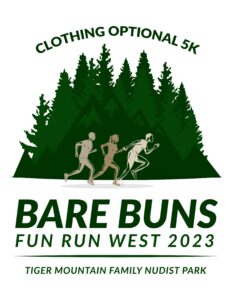 Once again the Bare Buns Fun Run is on the books. BBFR 2023 is slated for July 9th on Tiger Mountain.
Runners will be challenging the mountain on the toughest mountain course in the Northwest.
8:30 – registration
10:30 – race
As usual, lots of fun will be available aside from the run. There will be food, coffee and snacks available before, during and after the run. Please avail yourself of the pool, hot tub and sunning lawn as well.
The park will be sponsoring a night of music on Friday the 7th and a spaghetti dinner with music on Saturday the 8th. 
Use the link to register: https://www.databarevents.com/bbfr
Look forward to seeing you here for another great run!