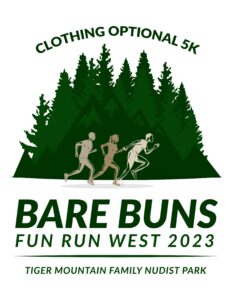 Once again the Bare Buns Fun Run is on the books. BBFR 2023 is slated for July 9th on Tiger Mountain.
Runners will be challenging the mountain on the toughest mountain course in the Northwest.
8:30 – registration
10:30 – race
As usual, lots of fun will be available aside from the run. There will be food, coffee and snacks available before, during and after the run. Please avail yourself of the pool, hot tub and sunning lawn as well.
The park will be sponsoring a night of music on Friday the 7th and a spaghetti dinner with music on Saturday the 8th. 
Use the link to register: https://www.databarevents.com/bbfr
Look forward to seeing you here for another great run!