On each of your first three visits, you are considered to be members for a day in the category "Limited C" or "Limited D". The first visit is free on non event weekends. Beyond the first three visits, when you apply for membership, you may choose from one of two options. Nearly everyone who joins Tiger Mountain Family Nudist Park selects the membership option which provides unlimited access to the facilities at the park. If you prefer this option, you would join as a "Limited A" member for the first year and subsequently you would renew as a "Regular" member.
Limited A members are given the combination to the entrance gate and have unlimited access to the recreational facilities. However, they are not voting members of the park.  Regular members also have unlimited access, but in addition, they are voting members and have a voice in the administrative affairs of the corporation. All memberships expire on April 30.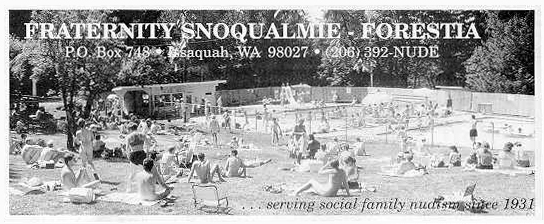 promotional postcard showing sunning lawn and pool much of text below written by STANISLAW NAGI
We don't expect anyone to accept our lifestyle and to apply for membership on the first visit. We realize that persons who have never been to a nudist park or nude beach and have never been in an environment where they are surrounded by nude men, women, and children, may be apprehensive about their first visit. Even after they have been here for a while and have had an opportunity to observe the clothing-free lifestyle, they may be reluctant to actually remove their own clothing in the presence of other people. It is for this reason that the first visit is free and that there is no obligation to participate. The purpose of the first visit is to dispel the fears and anxieties that people may have and to help them decide if they might want to further pursue the possibility of accepting the lifestyle for themselves and their families.
Tiger Mountain has a specific procedure that is followed if persons such as yourselves express an interest in applying for membership. As a first step in this procedure, we require that you visit the park two more times. The objective of the three visit rule is threefold:
It gives you a chance to overcome any apprehensions you may have; to evaluate the recreational opportunities, the health benefits, and the enhanced mental attitudes that membership in a nudist organization provides.
It allows you to assess your family's financial status before you make a definite membership commitment.
It gives us an opportunity to observe your attitude and conduct so we can be sure that you will be welcome as members.
If you disrobed and personally experienced the clothing-free lifestyle on your first visit, you have come a long way toward becoming a member of Tiger Mountain. If you haven't participated, you will have an opportunity to do so on your second and third visits. Please keep in mind that Tiger Mountain Family Nudist Park is a family-oriented nudist park and that we operate and maintain our facilities specifically for the purpose of providing an opportunity for families who share our views to participate in clothing-free recreation.
There are only a few such facilities in the Puget Sound area, yet there are thousands of non-nudist parks, campgrounds, and resorts. People who are not interested in our lifestyle or who find it objectionable have more than ample opportunity for a wide variety of clothed recreational activities. Our opportunities are limited.
Accordingly, all of our members and all persons seeking membership are expected to be participating nudists. We do not require that anyone be nude at all times, however, on warm summer weekends, during daylight hours, all our members and prospective members are expected to participate to a reasonable degree.
Before requesting a membership application, please ask yourself the following questions:
"Have I personally experienced a clothing-free lifestyle?"
"Have I done so of my own choosing, not having been coerced nor intimidated by any other person, including my spouse?"
"Do I enjoy being nude in the presence of other people — male and female, young and old, married and single?"
"Do I seek membership in Tiger Mountain Family Nudist Park because I personally desire to continue participating in family-oriented nudist activities?"
"Do I think that the policies and the standards of conduct of Tiger Mountain Family Nudist Park are fair and reasonable?"
If you can, in all sincerity, answer each of these questions with a "Yes", not just a "Maybe", but a positive "Yes", then it would be most appropriate for you to apply for membership. However, if either you find nudism to be embarrassing, indecent, immoral, or in any other way unacceptable or if either of you simply can not bring yourself to disrobe and participate, then one of the many non-nudist facilities would probably better satisfy your family's recreational needs.
Before you can make a membership commitment, you need to know what membership options are available and the associated costs. See the rates page for membership fees.
In addition to membership in Tiger Mountain, you may wish to join either or both of the affiliate national nudist organizations, The American Association for Nude Recreation (AANR) and The Naturist Society (TNS). Membership in these organizations is optional and does not, in any way, affect your Tiger Mountain membership. However, we encourage you to join these groups for several reasons. First of all, some nudist parks will admit only members of a national nudist group as visitors. Also, members of AANR or TNS receive periodicals in the mail to help keep them informed of nudist activities throughout the world. These organizations deserve the financial support of nudists as they keep a very close watch on anti-nudist organizations and proposed anti-nudist legislation, often providing legal counsel to help insure our continued right to pursue this lifestyle.
When you decide to apply for membership, please talk to the membership committee, the welcoming committee, or a member of the board. When you receive your application forms, please fill them out completely. We suggest you take them home with you and bring them back on your next visit. It is important that you  provide all the information requested and that you sign the forms. One of the forms that must be filled out is the Washington State Patrol form authorizing a background check to determine if any applicant has been convicted of a sexual offense against children.
The initiation fee and the first year's dues are payable in advance. When you submit your application, you will be given a temporary membership card. If you have applied for Limited A membership, you will be given the gate combination and you can come to the park as often as you wish. Your application will be reviewed by the membership committee and, unless there is a reason why you should not be accepted into membership, you should receive your permanent membership card in the mail in a few days.
As a member of Tiger Mountain, you will have an opportunity to enjoy not only summertime clothing-free recreation, but also numerous potlucks, parties, and other year-round activities, indoor and outdoor, nude and clothed, to which all members and their guests are invited. Each month you will receive a copy of our newsletter, the Forestian. Most of the work done at the park in maintaining and improving our facilities is done by volunteer labor. In this way, we are able to keep the cost of membership at a minimum. Members are highly encouraged to participate in work parties and to serve on various committees.
Undoubtedly, you will want to visit other nudist parks and resorts and to enjoy their facilities and activities. Tiger Mountain is but one of many such parks in the United States and in foreign countries. An extended stay at a nudist destination resort in such places as California, Florida, or the Caribbean can be a truly memorable vacation. Even an overnight stay at a more rustic nudist park or at a nude beach can greatly enhance a cross-country trip.
Again let us say that we hope you enjoy your visit to Tiger Mountain. Whether or not you decide to
apply for membership, we appreciate the opportunity to share with you a day at our park and to show you our lifestyle.