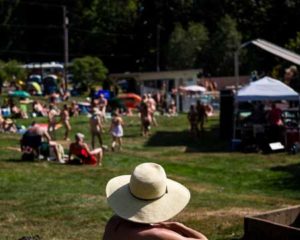 Nudestock: Our annual naked music festival.
A Nude Rock and Blues Experience.
Awesome Local Bands Play from 11:00 am to 6:00 pm
Nudestock is every year the weekend before Labor Day weekend.
Visitors and guests pay the regular 1 day membership day fees ($17). First-time visitors receive a voucher for their next visit FREE!!!     Kids are welcome accompanied by their parents.
Photo ID required for entry. No cameras allowed….film or media card will be confiscated.
Camp for the weekend! Tenting sites are first come, first serve, and included in membership fees (kids camp free in parent's tent). RV sites are available by reservation…reserve yours today!
Carpools encouraged as parking is very limited.
Souvenir T-shirts, Craft, Jewelry, and Massage Vendors, as well as the Bare Necessities Store
We usually have a coffee and food vendor on site.
Some vendors can take credit cards, but bring CASH, as there is no onsite ATM.
Members and guests can take a plunge in the heated pool or relax in the hot tubs & sauna, play volleyball on the sand court, or just soak up the vitamin D on the beautiful green sunning lawn that makes a natural amphitheater for dancing and grooving to the music of local bands.
We kick things off Friday night with Nudestock Eve party with Mary McPage and Friends at 7PM   Snack Buffet table, donations welcome
Check out this year's lineup at our event page.
Enjoy the park … naturally!